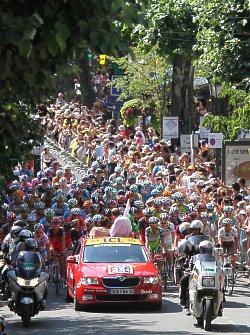 Photo Credit: Tourism Office Luchon
In addition to being the city stage of the Tour de France over fifty times, Luchon is also the city that was the first stage of the Tour in the high mountains in 1910. Luchon was twenty-two times stage town and thirty times city stage departure of the Tour since 1947. This year, it's Albert Bourlon won the stage after 253 km breakaway with sixteen minute lead over his nearest rival, a record that has never been beaten.

Also include Hugo Koblet Federico Bahamontes, Luis Ocana or Eddy Merckx, winner of the Tour and all previously sacred in Luchon.

Climbs around the spa town are numerous and considered: the Col de Peyrsourdes which allows access to the Hautes Pyrenees (64 passages of the Tour since 1910), the Port de Balès, Col du Portillon near the Spanish frontier or the Aspin and Tourmalet passes, which offer stunning landscapes.

Here's an anecdote told by Christian Laborde in the Petit Livre jaune, about Yvette Horner, born in Tarbes, who accompanied the tour for eleven years, from 1952 to 1963: "& nbsp; I think about Bahamontes, to the stage Pau-Luchon on July 9, 1958, Yvette Horner, at its accordion. A crossing was closed, riders waiting it opens. But the gatekeeper was in no hurry to turn the handle. He wanted her to play for him The March of minors. Yvette interpreted Walk of minors and the race resumed running. "

Besides the Tour de France, Luchon account other cyclo-sport competitions: The Lapébie, the Route du Sud and Luchon Aneto Trail.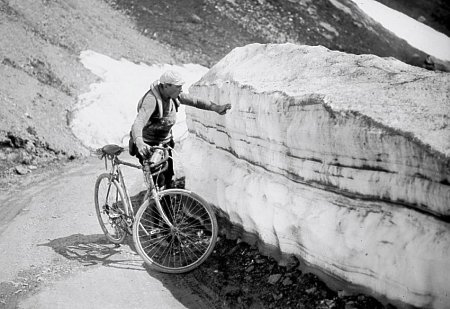 Hector Heusghem seeks to refresh (1923)

THE Tour 2015
The 2015 Tour de France will be the 102nd edition. It start from the city of Utrecht in the Netherlands July 4th and his arrival will be held in Paris on the Sunday, July 26, 2015. In order to guarantee his place to attend this event, we recommend that you book your hotel room in our hotel in Luchon.